Hello booklovers,
We have had a whole week of our advent celebrations so far – time is flying by! To mark a whole week of opening calendar doors, we present to you our first ever 'carol a day' two parter! Bringing us this fascinating facsimile of the story behind everyone's favourite childhood classic 'When Santa got Stuck up the Chimney' is fabulous festival volunteer Hattie. Read on for some weekend festive fun!
Hattie writes…
'When Santa Got Stuck Up The Chimney – Part One
Turns out it's harder than you might think to track down the origins of this Christmas classic…
The search began harmlessly enough: apparently, presents have been dropped down Eastern European chimneys since the 14th century. Fair enough. But did you know it wasn't until the 1800s, that Santa decided to take the plunge into the chimney pipe for himself? Santa's first chimney-dive was recorded by Washington Irving in 1809 – no mention of being stuck, though.
So far, so good. Then I reached murkier waters. The dreaded name issue. Saint Nicolas becomes Sinterklaas becomes Santa Claus. Simple, right? Well, not to when it comes to chimneys and being stuck. Let's start with the fact that both Saint Nick and Sinterklaas are always depicted as far too slim and dignified to go around getting stuck in chimneys. For plumpness and jollity, we must turn instead to that good old British counterpart, Father Christmas. But it doesn't end there – it seems Father Christmas only gets his rotundity from the Norse god Odin, in his fat, bearded Christmas guise as Jul. So there we are.
Except there's also a Dutch character, Zwart Piet, or Black Pete. Chimneys abound here: Black Pete both listens at chimneys for whether children have been naughty or nice, and has black skin as a result of – you guessed it – chimney soot.
By this point, I, like Santa, was beginning to wonder whether I'd ever get to the bottom of this particular chimney. It was when I found myself reading an article describing various incidents of real people getting stuck in real chimneys and dying accordingly (positional asphyxia, anyone?) – that I decided it was high time for retreat. I guess Santa will have to stay mysteriously stuck for another year.'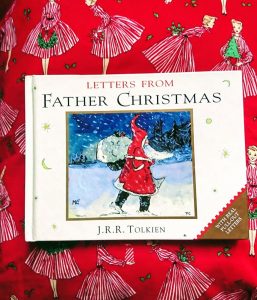 If Hattie's choice has whet your appetite for some Father Christmas themed stories, then why not try Letters from Father Christmas by J. R. R. Tolkien? Whimsical, adorable and a little bit frightening in places, this is perfect for those Christmas evenings.
Prepare yourselves for part two tomorrow dear booklovers!