Hello booklovers!
The moment you have been waiting for has arrived – the conclusion to Hattie's wonderful piece all about 'When Santa got Stuck up the Chimney'. Hattie touches on a childhood scene which I think we could all relate to at some point in our school days!
Hattie writes…
'When Santa Got Stuck Up The Chimney – Part Two
Having devoted far too many hours trying to locate the musical genius who brought this Christmas classic into being, I fell to musing instead about my own first encounter with the song.
I was, I think, about four or five – that most impressionable of ages, when sleeping on Christmas Eve is akin to man's first ascent of Everest. And exactly the age when the school Christmas show is a deadly serious part of the curriculum.
That year, some wise teacher plumped for a medley of songs rather than the standard Nativity. So we not only had the usual singing Shepherds, Kings, and Little Donkeys – we also had The Twelve Days Of Christmas in human children form (my younger brother was a Gold Ring) and various small and vicious reindeers definitely not letting poor Rudolph join in any of their reindeer-games.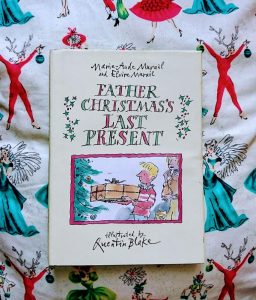 And me? Well, there was an industrial-size cardboard box painted to look like a chimney, and a boy from the year above dressed as Santa with a pillow stuffed down his shirt – but most importantly of all (I was assured) were the Girls and Boys who, woken by Santa's shout, endeavour to Pull Him Out. Yes, that was me. When Santa Got Stuck Up The Chimney was my stage-début.
And was a star born that night? Well, not quite – despite all the glitz and excitement of the show, I was, I confess, mostly preoccupied about exactly why I was wearing pyjamas at school.'
What a wonderful memory. To conclude our Father Christmas celebration, I have one more literary recommendation for you – Father Christmas's Last Present by Marie-Aude Murail and Elvire Murail, with beautiful illustrations by Quentin Blake. Exploring growing up, childhood and belief in wonderful things, this story is a Christmas necessity in our house.
Yuletide felicitations, until tomorrow! x