Hello booklovers,
I get the lovely job of picking the festive song for our Advent calendar today. In true mellow and festive fashion, I have picked 'The Christmas Song', one of my all time favourites which never fails to cultivate that warm Christmas feeling.
Chestnuts roasting on an open fire, Jack Frost nipping at your nose…
Funnily enough this beloved festive classic depicting the cosiest scenes known to man was written by Robert Wells and Mel Tormé during an intense summer heatwave! Appar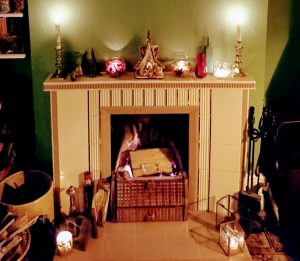 ently Wells was trying to think cold thoughts to stay cool on a baking hot day.. and forty minutes later the song was written. Best known for Nat King Cole's beautiful rendition, this song has been covered by many other artists, including Mel Tormé himself and the one, the only, Michael Bublé! Mr B's album is a regular musical feature in our house and always reminds me of decorating the Christmas tree – by the time 'The Christmas Song' is played we are usually putting the star on top of the tree,  swiftly followed by a large cup of tea (or something stronger and mulled…) The wonderful lyrics pinpoint the quintessential warmth of the festive season which deep down we are all striving for in this strange and sometimes scary world of ours. After the events and changes that the year brings it is so comforting to return to that lovely, familiar music.
Merry wishes, until tomorrow!
Imogen x