Hello booklovers,
I hope you enjoyed our first installment of William's take on the carol 'Good King Wenceslas' as much as I did. As promised, the conclusion to the tale if our offering behind today's Advent door. Enjoy!
William writes…
"Brother, it is good to see you on this cold night."
Wenceslas tried to look unmoved, but this was the first time that evening that he allowed himself to feel the knife edge of fear. What had been a dark, empty street ahead was now filled with lamplight. Burning torches. Dozens of them.
Flurries of snow swirled around the flames and darted for the ground. Wenceslas' eyes switched from these to the wooden church, closer now in the foreground. Then to the bearded figure, well shorn, eyes all the more alight with the reflection of the leaping flame.
No one moved, though Wenceslas' guards tensed their arms about them, gathering their unsheathed weapons close.
"You were expecting me, brother?" Prince Boleslav asked. He was hurt – and his tone said as much. And after the initial shock there was no malice in his eyes. Just weary resignation to the suspicion and recrimination that was set to come his way.
Whoever claims to love God yet hates a brother or sister is a liar. The words hung heavily on Wenceslas' mind. Boleslav surely comes in good faith. And if he does not, then he will answer to God.
            And perhaps to me.
            Wenceslas gestured to Jira Bohdan, his captain of the guard. He lowered his sword, and Wenceslas walked forward, past him, to his brother.
The duke held out his arms and the prince received him. And no words were exchanged in their embrace.
When Wenceslas did feel the pain he had anticipated, it was not from the front.
Gasps, panicked words, ricocheted from both sides across the snow drizzled cobbles of that unhappy street.
The duke wheezed as his brother held him by the shoulders. Boleslav's face was frozen as he looked down at his elder brother.
Wenceslas' lips pursed.
"Why?" he whispered.
"A brother does not kill a brother." Boleslav's face, though firm, betrayed confusion. Roughly he shoved Wenceslas to one side and drew his sword.
"What is the meaning of this?"
Jira Bohdan stammered and stumbled over his words. It was what we had agreed. I thought this was as you intended, my lord.
            Wenceslas took advantage of the distraction to stumble off, clutching his stomach in the wake of stunned onlookers. He looked up. Delirium began to cloud what he saw. The church.
Wenceslas made off for it as a scuffle developed behind him. More steel was drawn. He took a jog, stumbling over the crisp snow on the flagstones. He wheezed, wincing as he coughed up blood. The church door was ahead. God will look after his children.
            Boleslav's men clashed with his guards now – a confused mass of men confounded by the increasing swirling snow. Wenceslas fell down with a thump in the church doorway. More pain. He clasped his hands in front of him and began to pray.
"My lord, forgive me for my sins, for those I have committed against you and others – "
Rushed panicked words. His heart thundered.
"What sins are these, Duke Wenceslas?"
In his fever, Wenceslas' eyes for a moment stayed on his now frozen hands.
Is this the son of God? Is this the end? Is Jesus – German?
            Wenceslas realised that it was not the end. That God had not yet sent his only son to collect him from this mortal earth. That God instead had sent his truest friend in all the world, that he might not die alone.
"Otto," Wenceslas chuckled breathily, "In God's name, I am glad to see you."
"You are hurt, lord," Otto said simply. The man panted, but crouched above Wenceslas, rooted to the spot, quite unsure what to do.
"I am glad you are here," Wenceslas breathed, "Bringing you flesh and bringing you wine surely turned out more than just mere charity."
"God knows it sir, I am grateful."
Wenceslas smiled up weakly at the gormless German peasant, still stunned by the events he had just witnessed. Wenceslas was stunned too, but content now, more so than even when he had set foot in the town of Brandys that morning.
"God knows it I am grateful Otto. To you and to the Lord Almighty. Both have given me such a parting as I could not have anticipated or hoped in all of my years on this earth. Make yourself safe, and be Mer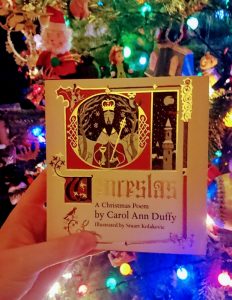 ry, and be right with God, so that this final meeting will not have been in vain."
———————————————————
And so finishes the true tale of St Wenceslas. Thank you to William for a fascinating combination of historical fact and literary flair. If this has whet your appetite for more tales of Saint W, then why not try 'Wenceslas', a poem by Carol Ann Duffy?
All the festive best, until tomorrow!