Hello booklovers,
Behind door number 19 we have a delightful piece courtesy of lovely committee member Jez, also about the depiction of nature and wildlife in Christmas carols.
Jez writes…
'I was minded to talk about nature in carols and Christmas songs and stories. It has been the custom for many centuries for greenery to be cut and brought into the house during the Winter Solstice/Christmas season to decorate windows and doors, and now, of course, we have the Christmas tree, and swathes of greenery on mantelpieces and all over the house. Holly, ivy and Christmas trees have been talked about by another contributor, but the other main winter plant is mistletoe, whose use dates back to the Druids, who considered it sacred and used it in sacrifices, and to the Norse invaders who believed that bringing mistletoe into the house brought good luck to the household and warded off evil spirits.
Nearly all Christian churches ban mistletoe because of the Pagan legacy but every year the Dean of York Minster dons ceremonial gloves to hang mistletoe on the high altar. A proclamation is then made for "public and universal liberty, pardon and freedom to all wrongdoers", a custom dating back to the Middle Ages.
Mistletoe features in several modern Christmas songs, probably the best-known being Cliff Richard's "Mistletoe and Wine" and Justin Bieber's "Mistletoe", and in a folksong, "The Mistletoe Bough", in which a young bride wearies of dancing at her wedding and suggests a game of hide and seek in her father's castle. She hides in an old chest which locks and traps her, and it is not until many years later that her skeleton in her bridal gown is discovered.
Animals and birds feature in many carols and stories. Apart from Rudolph and Little Donkey, other animals, particularly sheep, oxen and asses, appear in several carols and Christmas poems,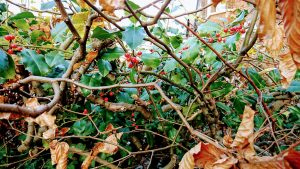 including "While Shepherds Watched their Flocks", "Little Drummer Boy", "Bethlehem Down", "My Dancing Day" and Thomas Hardy's poem "The Oxen". This retells the legend that the ox and ass in the Bethlehem stable knelt down to worship the Baby Jesus, and this story is also mentioned in his novels "Tess of the D'Urbervilles" and "Under the Greenwood Tree". *
The wren was hunted and killed in England and Ireland on St Stephen's Day (26 December) in ancient times. The reasoning was that the wren was a traitor and a cheat because its song had betrayed a priest, and it had ridden on the back of an eagle in order to win a contest to see who could fly highest. The story of the hunt became popular at the time of the Peasants' Revolt, with the wren symbolising baronial property to be seized by the peasantry. In the folksong "The Cutty Wren", men go out to catch a wren which they take round to the local gentry asking for money. Gradually, the practice of killing the wren was replaced by a ritual enactment. Carol Ann Duffy's book "The Wren Boys" is a modern take on this story. On St Stephen's evening at Middleton, near Leiston, the Old Glory Molly Dancers and musicians sing the old wren-hunting songs and then take a wooden wren in a cage in procession by candle and torch light through the village, ending with more song and dance at the Bell Inn.
A charming Czech carol, which I remember from primary school, is "From out of the wood did a cuckoo fly" in which the cuckoo, pigeon and dove celebrate Jesus' birth singing cuckoo, vrer-croo and tsu-croo respectively. Parts of the melody were used by Sir Arthur Sullivan for the song, "Tit Willow" in the Mikado.
The Twelve Days of Christmas" features a grand total of 23 birds of 6 varieties: swans, geese, colly (or calling) birds, French hens, turtle doves and of course the partridge, as well as whatever beasts the maids were milking – probably cows or maybe goats. John Julius Norwich wrote an hilarious take on the song, illustrated by Quentin Blake, consisting of a series of thank you letters from an increasingly frazzled young woman to her admirer. A brilliantly funny book which would make a great Christmas present if you are still searching for that elusive something special!'
After having read this, I feel inspired to go for a long wintry walk and take in all the beauty of nature that surrounds me, even at the cold and dark time of year.
Yuletide wishes until tomorrow!