Hello booklovers,
Christmas Eve is here. One of my most favourite nights of the year, one of quiet and anticipation now that the rush is over. I want to thank you all for your support and appreciation of our festive efforts, I do hope you have enjoyed them. We are finishing our Advent calendar with a contribution from our wonderful committee member Anna who has written some lovely posts for the Christmas blog. Today Anna reflects on one of the most important aspects of Christmas, finding a moment of peace through listening to Christmas carols. Fittingly for our festive swansong, Anna has chosen 'Once in Royal David's City'.
Anna writes…
'The sound of BBC Radio 4 has been a constant in the background for most of my life, as all those who know of my devotion to the Archers will testify. But as well as that daily comforting dose of an everyday story of country folk, there is a yearly treat that I try never to miss; a Festival of Nine Lessons and Carols held in Kings College Chapel, Cambridge, and broadcast on BBC radio since 1928.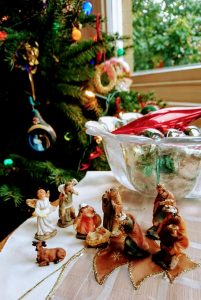 As a child I was happy to listen every year at 3pm on Christmas Eve, with my mum as she maybe sat for a moment during the hurly burly of the time before Christmas Day, to hear the opening carol gently easing us into the very special time to come. As an adult, taking on the organisation of Christmas myself, I realised (as I expect my mother did too), the importance of this moment of peace, to physically rest as I sit and listen, and more importantly as a reminder of the true meaning of Christmas for me. The opening carol is always Once in Royal David's City, and the beauty of the first verse's solo voice always has the capacity to still and calm me.
Cecil Frances Alexander knew a thing or two about how to talk to children through the simple yet strangely powerful poems she wrote (she was also responsible for another favourite, All Things Bright and Beautiful). Once in Royal David's City was first published in 1848 in Mrs Alexander's Hymns for Little Children. It is gently instructive, entirely suitable for its young audience, linking Jesus the boy with Christ the Lord in simple but lovely verse.
"For that Child so dear and gentle
 Is our Lord in heaven above."
To me as a child listening, over 100 years after that first young audience, its straightforward description of Jesus' young life verse by verse made perfect sense of the story of Christmas as the beginning of the Christian journey.
Accompanied by the lovely, lilting music, composed by English organist Henry John Gauntlett, there is no better way
for me to bid farewell to Advent and greet the wonders of the Christmas period.
I started this piece with a tribute to BBC Radio 4, which coincidentally as I was writing, was gently reminding me in the background (as ever) that the Festival of Nine Lessons and Carols from Kings College will be broadcast today at 3pm. And whilst we are preparing the sprouts on Christmas Day, why not tune in to a programme with reminscences of this beautiful carol from former choir boys who have had the privilege to sing that solo. Apparently the chosen chorister only learns of their great honour minutes before they have to sing. Crumbs!!
As a contributor, and avid reader of these Christmas blog posts for the Felixstowe Book Festival this year, I would like to say how much I have enjoyed reminiscing myself and relished the information, memories, stories and imaginings that have come from the other contributors. What a treat this has been to help us through Advent.
Happy Christmas one and all, and may your stockings be filled with literary delights to keep you going until our next festival.'
What a perfect sentiment to conclude our 'carol a day' Advent calendar. A Merry and Peaceful Christmas to you all, and the very best for 2019.
Christmas wishes,
Imogen x