Hello booklovers!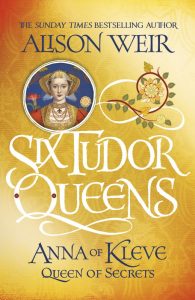 A very happy Valentines day to you all. Whether you are spending today with loved ones or completely ignoring it, we have an event which may set your heart a-fluttering….
We are delighted to welcome Alison Weir back to our 2019 festival! As the top selling female historian in the UK, and a highly popular previous festival guest, we can't wait to catch up with Alison and hear all about her latest work.
Along with her lovely self, Alison will be bringing Anna of Kleve: Queen of Secrets, the fourth book in her Six Tudor Queens series. Throughout this text Alison explores the true character behind the woman whose story is well fabled in our history. When researching our event, the childhood rhyme 'divorced, beheaded, died, divorced, beheaded, survived' trundled through my head. Rejected and divorced for not living up to social standards of beauty: a startlingly relevant predicament in which Anna found herself, highlighting the centuries-long female struggle for women to separate their value as a person from their appearance. I've never felt much sympathy towards Henry VIII and, in my opinion, his treatment of Anna adds insult to injury. Yet, despite initial tensions and differences, Anna grew to be deeply loved by all who knew her, including King Henry himself.
To find out more about our event, click here. 
We hope you have enjoyed our little Valentine gift – look out for more 'With love from FBF' posts in the next few weeks.
With lots of love,
Imogen and the festival team x