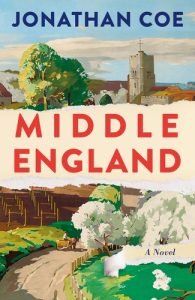 Hello booklovers,
Today sees through the last day in February, as well as the last of our 'With love from FBF' blog posts. We do hope you have enjoyed these little nuggets of book festival love throughout the dreary February days.
Ending with a flourish, we are delighted to present to you a new guest for the 2019 festival… we bring you Jonathan Coe. In conversation with festival patron Esther Freud, Jonathan, author of the excellent The Accidental Woman and What a Carve Up!, will be coming to our festival to discuss his latest novel Middle England.
Middle England follows The Rotter's Club and The Closed Circle, the novels depicting the life and exploits of Benjamin Trotter and his Birmingham cohort. As an alumni of the University of Birmingham, I hold a huge amount of affection for these novels and the way they depict the city that is so close to my heart. Jonathan's latest novel takes these beautifully drawn characters into late-middle age and the trials and tribulations (?) of Britain and Brexit. As with his previous novels in this series that were set in the '70s and early 21st century, Jonathan deftly depicts how characters very much like you and I handle life whilst living through a national crisis. This promises to be a fascinating and highly topical event and we do hope that you are looking forward to it as much as we are!
That's all for February folks!
With lots of love,
Imogen and the Festival Team x