Hello booklovers,
We're back, with further news of our fantastic festival programme for children and young people!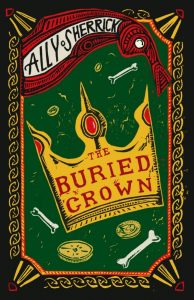 Rounding off our Saturday events, we have two sessions perfect for young history enthusiasts. We are lucky enough to be joined by the Sutton Hoo Roadshow, following their highly successful visit to Felixstowe Library earlier this year. Come along to dress up as Anglo Saxons, handle historical treasures and learn about our amazing local history. Following the roadshow, we are delighted to welcome author Ally Sherrick who will be hosting 'Operation Buried Treasure', a session all about her book 'The Buried Crown'. Inspired by real life events that occurred in Suffolk around the Second World War, Ally will guide you through your own exciting story of buried treasure.
Sound good? Well if you can bear any further excitement, look no further than Calling Mission Control. Festival favourites Rapscallion Theatre company will be taking us back 50 years, to when man first landed on the moon. A jam packed sessions, crammed full of drama, craft and general lunar fun, not to be missed!
On your return to earth you will be met with a giggle-filled array of events, namely 'Let's write funny' with Ruth Fitzgerald and 'The Funny Life of James Campbell'. Ruth, the author of the crackingly comical 'Emily Sparkes' series, will be chatting all about fu

nny stories and how to have a go at writing them yourself! If that leaves you with further comedy questions, then stick around and meet author James Campbell. James, author of the 'The Funny Life of Pets' and 'The Funny Life of Teachers', will be answering all of life's big questions surrounding topics such as exploding fish, non-stop pooping hamsters and what teachers do when they get home from school (i.e. resume their real life as an undercover detective).
Well, I don't know about you, but this all sounds quite exhaustingly wonderful! Keep your eyes peeled for even more festival fun over the rest of the week.
Bookish best,
Imogen and the festival team