"I'm so glad I live in a world where there are Octobers…"
Hello booklovers,
I've got to say I'm completely with Anne of Green Gables on this one – I LOVE October. I love the nights drawing in. I love the trees turning copper and late sun and finding autumnal treasures like conkers and bright red leaves as I walk to work. I am not ashamed to admit that I have been on tenterhooks for a good month in anticipation of cracking out my beloved duffel coat and wearing in my new boots.  Just this weekend I was utterly thrilled to be totally justified in cosying up in doors with a cup of tea and a brilliant book as the rain lashed down, without that I should be enjoying the great outdoors and the beautiful sunshine guilt hanging over me. It is a time to take stock and enjoy the changing of the seasons before winter descends. Here at the Felixstowe Book Festival we thought we would take this opportunity to share a selection of our favourite Autumnal poems and verse…
The Morns Are Meeker Than They Were by Emily Dickinson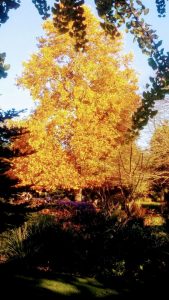 The morns are meeker than they were,
The nuts are getting brown;
The berry's cheek is plumper,
The rose is out of town.
The maple wears a gayer scarf,
The field a scarlet gown.
Lest I should be old fashioned,
I'll put a trinket on.
An extract from As You Like It by William Shakespeare
Under the greenwood tree
Who loves to lie with me,
And turn his merry note
Unto the sweet bird's throat,
Come hither, come hither, come hither!
here shall he see
No enemy
But winter and rough weather.
The Leaves Are Green by Anonymous
The leaves are green
The nuts are brown,
They hang so high
They will not come down.
Leave them alone
Till frosty weather,
Then they will all
Come down together.
I hope you have enjoyed these sweet examples of the inspiration that Autumn can bring. Keep reading booklovers!
Bookish best,
Imogen and the festival team x