Hello booklovers,
I can't believe it is November already. 2019 has whizzed by… and speaking of whizzing (and fizzing!) of the firework variety…
Remember, remember the fifth of November…
Whilst personally I find the tale of the gunpowder plot quite gruesome, at least it gives us the excuse for a chilly evening spent with friends and family, perhaps over a glass of something tasty and mulled and all in the name of being historical. However, if you prefer your Autumn evening pursuits to be of the indoor variety, the Felixstowe Book Festival has your back – we're here to provide you with some lovely bonfire night inspired poetry, which may at least help you create the illusion of being at a fabulous fireworks display without having to leave the comfort of your own home. For those who need that toasty feeling, do read on…
November 5th by Anonymous
Fires are flaming,
Flickering, flashing,
Full of fury,
Full of fancy.
Autumn Fires by Robert Louis Stevenson
In the other gardens
And all up the vale,
From the autumn bonfires
See the smoke trail!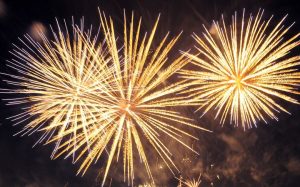 Pleasant summer over
And all the summer flowers,
The red fire blazes,
The grey smoke towers.
Sing a song of seasons!
Something bright in all!
Flowers in the summer,
Fires in the fall!
November Night, by Adelaide Crapsey
Listen…
With faint dry sound,
Like steps of passing ghosts,
The leaves, frost-crisp'd, break from the trees
And fall.
Bookish best (until next time!),
Imogen and the Festival Team x
P.S. You may like to know that our lovely selection of poetry comes from the marvelous I Am The Seed That Grew The Tree: A nature poem for every day of the year.