Hello booklovers,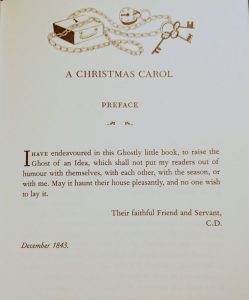 Welcome to December 1st, and to the first entry to our 2019 Felixstowe Book Festival Advent Calendar. It seems fitting to begin with one of the most well known and well loved stories of Christmas, A Christmas Carol by Charles Dickens. A moral tale of such brilliance, emphasised by its many adaptations and retellings (most memorably by The Muppets…), A Christmas Carol has been bringing home the message of generosity over greed, kindness over prejudice and community over isolation to readers for 176 years.
I always find it totally thrilling that Charles Dickens manages to convey such vibrant characters and potent messages in such a short work – in my own copy of the text the transformation of Scrooge from a 'squeezing, wrenching, grasping, scraping, clutching, covetous old sinner' to 'as good a friend, as good a master, and as good a man, as the good old city knew' occurs over the course of a mere 104 pages. And yet what a glorious tale! Full of ghosts and humour and undertones of darkness, in particular a memorable scene when Scrooge comes face to face with two children who emerge from the robes of the ghost of Christmas Present, named Want and Ignorance. Not only does Dickens introduce these 'meagre, ragged, scowling' creatures to warn Scrooge of the dangers of both traits, but to warn mankind in its entirety. Food for thought in our own troubling times, where so many of the terrible things that we see and hear about are a modern manifestation of these two children.
And yet… what unfolds is a timelessly uplifting tale of redemption. Scrooge sees the error of his miserly, hoarding ways. Warped by isolation and a lack of love that stems from his deep past, he cannot see the purpose of generosity, merriment or kindness. The encounters with the three ghosts of Christmases past, present and future lead Scrooge to some serious introspection and also exposure to the lives of others. He is given the gift of empathy which transforms his outlook and his life entirely. Our small but powerful tale concludes with the image of a contented man, surrounded by friends who will last a lifetime. Mind you, if I was Mrs Cratchit and my husband's boss, in a bid to 'change their ways', turned up in my kitchen ON CHRISTMAS DAY with an enormous turkey and, oh yes, the whole of London, I would be a bit miffed…
Wishing you all a very merry Advent!
Imogen and the festival team x