Hello booklovers,
'Jo was the first to wake in the grey dawn of Christmas morning. No stockings hung at the fireplace, and for a moment she felt as much disappointed as she did long ago, when her little sock fell down because it was so crammed with goodies. Then she remembered her mother's promise, and, slipping her hand under her pillow, drew out a little crimson-covered book.'
Christmas morning with Louisa May Alcott's Little Women never fails to make me feel festive as we read Jo's anticipation that we all remember from childhood of waiting to see what fun and gifts the day would bring. Particularly befitting to our own literary celebration, the March girls are given books to read as their Christmas gift from their mother. My own lovely mum, in order to ensure that noisy,small people didn't disturb the rest of the household too early, would also slip a book onto the top of our stockings to keep us occupied in the wee small (and exciting) hours of Christmas day.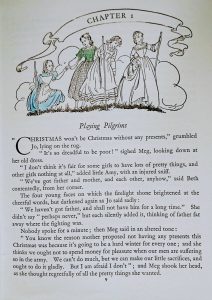 The girls, who as you can imagine on Christmas morning were 'unusually hungry', gave their mouth-watering breakfast to a family in need. The timeless generosity of this act seems of particular prevalence to us all now, given the sobering statistics detailing just how many families are relying on food parcels from food banks in the UK as I write. I think, regardless of our differences, we can all learn from Meg, Jo, Beth and even Amy, who are the embodiment of  the importance of compassion, family and generosity. They teach us that we can all enjoy great tidings of comfort and joy by giving what we can and doing what we can to make the lives of other better.
Festive best,
Imogen and the Festival Team x