Hello booklovers,
Our favourite festival feline returns to our screens with another Christmas Cat – today Earl the cat has selected Slinki Malinki's Christmas Cracker as his festive tail (pardon the pun) of choice.
Slinki Malinki, rapscallion cat, is up to his usual tricks and causing mayhem – except this time it is magnified because it's Christmas! There are decorations to destroy and trees to topple… Whilst Judith Kerr's Mog finds Christmas to be a pain in the neck, Slinki Malinki seems to view it as a new challenge for naughtiness. For, as quick as a flash, he is scaling the Christmas tree. knotting the tinsel, batting the baubles and kidnapping the fairy doll, leaving his family with a 'glorious mess'…
You can't help but smile at the mischievous expression on Slinki Malinki's face as he dismantles the decorations one by one, bringing some much needed hilarity into the Christmas celebrations. Paired with beautiful illustrations, Lynley Dodd's wonderful rhymes are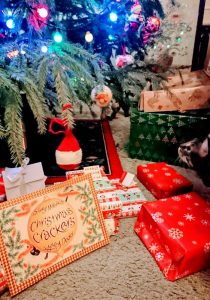 playful and fun to read with children and grown ups alike, which is perfect for this special time of year where we are all gathering with our families (and their pets!), to spend time together and perhaps share a book. We hope you enjoy Slinki Malinki's festive antics!
Yuletide wishes,
Imogen and the Festival Team (and the Festival Cat) x