Hello booklovers,
A question I often ask myself is where on earth would we be without Michael Morpurgo. He is an author who has accompanied me through my childhood, constantly taking myself, my brother and my friends to other worlds and time periods, meeting exciting new characters and encouraging us o see the world from a different perspective. At Christmas he waves his wand again, as On Angel Wings is a perfect example of Michael Morpurgo's literary magic.
'The Truth is that once we weren't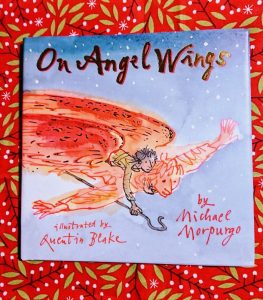 children any more we never did believe Grandpa's story, not really, much as we might have wanted. It was just too improbable, too fantastical.'
Grandpa's story is told to his grandchildren and us on Christmas Night. He tells the tale of himself, his father and his brothers, detailing the events of an evening spent watching their sheep which would change their lives forever. They are paid a visit by an angel, who tells them of the birth of a baby in Bethlehem. The family take some convincing – they can't quite believe the significance of this particular baby or the need to treck all the way to Bethlehem to visit him…until the Angel Gabriel summons his choir of angels. Our hero is 'simply spellbound'.
Yet it transpires that he may not gather in Bethlehem – he is deemed too young, too frightened, too much of a baby by his big brothers and must stay to watch over the sheep. Luckily for our hero, the Angel Gabriel thinks differently and, as the beautiful Quentin Blake cover illustration details, takes him on a journey on angel wings, with a gift for the new born king.
This is a tale of faith, belief and a sprinkling of magic, perfect to read on Christmas night. Michael Morpurgo takes us on another literary journey, from which we all learn something new.
Merry best,
Imogen and the Festival Team x