Hello booklovers,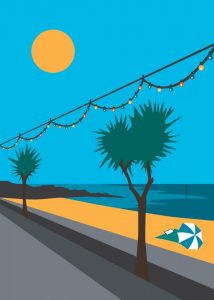 As you know, the 2020 Felixstowe Book Festival will be taking place entirely online. We will be broadcasting six live interview videos with various authors which will be available to watch through our Facebook page and through our website. These are called Live Stream Videos.
It's a brave new world of cultural events and in order to make your enjoyment of our online festival as smooth as possible, here we have a handy online guide to watching our Live Stream events. There are three different ways that you can get involved:
Method One through Facebook
Visit the Felixstowe Book Festival Facebook page just before the event is due to start. You can find this here: https://www.facebook.com/FelixstoweBookFest/
Scroll down the page past the header information and you will see the video being played.
Click on the video: you will then be able to see it in full screen and will be able to interact and comment.
Method Two also through Facebook
Once the live stream has started, enter this link into your internet browser: https://www.facebook.com/FelixstoweBookFest/live
Press your return/enter button and you will be taken directly to the live event.
Please note that this will only work if the live event is happening at the moment you enter the link into your browser. You can do this earlier and wait, but if so please do hit refresh as soon as the live event is due to start.
If you have Facebook make sure you 'like' and 'follow' our page – that way you'll be able to see our news and events appearing on your Facebook newsfeed.
Method Three through our website
Head to https://felixstowebookfestival.co.uk/online to view any live videos.
This option will only allow you to view the video live. You can still enjoy watching our event but will not be able to comment on or interact with the video.
We do hope that you enjoy the way that we are delivering our festival this year. Keep your eyes peeled for news about the other interesting festival treats we will be offering you!
Bookish best,

The Felixstowe Book Festival Team x