Hello booklovers,
With so many of us enduring lockdown isolation, literary folk have turned to books and reading as a source of comfort and company.
We thought we would extend the isolation reading theme further. Here at FbF we teamed up with several authors, who would have joined us for our original 2020 festival, with a mission to compile a 'castaway library'. 
We asked them which books they would take with them if they were abandoned alone on a desert island. You will be intrigued to find out their responses…
Our first contributor is Edward Parnell who takes us away to his castaway library…
I always struggle with questions like this about which books I'd take on my desert island, as I suspect the books I might think of as being my favourites wouldn't necessarily be the ones I'd want for company in that castaway situation. And, of course, different texts mean different things to us at different parts of our lives, which always seems to make any choice harder…
Given that, my first pick is a book by one of my favourite authors, though it's not my absolute favourite of his works (that would be his most-famous novel, Slaughterhouse-Five). It does seem, however, the most appropriate of his titles to be stuck with on a desert island – and it is a very fine work in its own right. It's Kurt Vonnegut's 1985 novel Galápagos, a book in which, a million years into the future, the human race has evolved into seal-like creatures, stranded on the islands made famous as the place where Darwin began to unpin the secrets of evolution. It's a clever, funny novel – structurally inventive and, above all, full of Vonnegut's characteristic humanity. It also feels very prescient given our current slide towards environmental and social catastrophes that our 'Big Brains' seem incapable of addressing.
For my second book it seems appropriate to choose a collection of ghost stories given the subject matter of my most-recent book, Ghostland. With little to do on my island I expect I'll have plenty of time to try to decode the strange alchemy at work in the stories of one of the masters of the form. I'm tempted to pick a collection by Walter de la Mare or Robert Aickman, two writers whose eerie tales often have an dreamlike air of psychological ambiguity. But, in the end it's difficult to look beyond the more-obvious terrors present throughout Curious Warnings: The Great Ghost Stories of M. R. James (Jo Fletcher Books, 2012) – as the Victorian-born Cambridge academic is still, on balance, my favourite practitioner of the ghost story. Though how much comfort I'll get reading about his lonely, demon-stalked Edwardian protagonists while I'm stranded on that faraway isle is perhaps a moot point…
My final book is going to be a practical choice. Whether my island is an isolated, wind-blasted rock somewhere in the Atlantic, or (hopefully) an idyllic coral cay in the depths of the Pacific, as a keen birder one of the things I'm going to do to kill time is watch out for passing seabirds. Given that, having to hand a reference book that covers all the possibilities I might see seems like a good plan, so I'll go with Oceanic Birds of the World: A Photo Guide by Steve Howell and Kirk Zufelt (Princeton, 2019). I just hope I'm allowed to take a pair of binoculars or a telescope with me too, else my views of those passing petrels and shearwaters aren't going to amount to much when I write home via the traditional message-in-a-bottle method.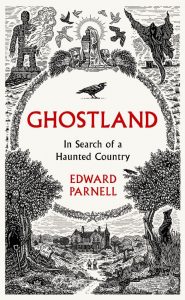 Ed's most-recent book is the narrative non-fiction
Ghostland
for William Collins (October 2019), and he is also the author of
The Listeners
(winner of the 2014 Rethink New Novels Prize). Ed is the director of the biennial Wymondham Words literature festival.