Hello booklovers,
The nights are well and truly drawing in and there is an Autumnal tang in the air. If you fancy getting into the spooky spirit why not take some inspiration from our recommendations below?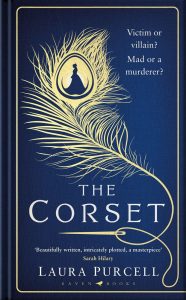 The Corset by Laura Purcell
Review by Anna Tink
If you're in the mood for some seasonally spooky reads, I would recommend that you look no further than the novels of Laura Purcell, who with her wonderful blend of Gothic horror, historical detail and creepy sense of menace has had me captivated over the last few months.
The Corset was the first of her novels to catch my eye, with its stunning cover, the peacock feather thread curling seductively across the front of the book. The two heroines, Dorothea, wealthy, well educated and engaged in charitable work, and Ruth, a very young, maltreated seamstress, poor and in prison; the object of Dorothea's interest as a self confessed murderess with a dark secret.
The Victorian world of pseudo scientific thought, through Dorothea's interest in phrenology, (the possibility that bumps on the skull can predict mental traits), ghostly superstition, witnessed in Ruth's relationship with the eponymous corsets she stitches, and the macabre outcomes of her work, move forward the stories of the protagonists, both feisty, intelligent and passionate, despite their different backgrounds and situations. Classic Victorian themes of madness, murder and betrayal are all evident here, and make for a riveting and malevolent read. The Corset, that most imprisoning of garments tightens it grip to the final stitch…..
Since then I have read The Silent Companions and Bone China by the same author; more great heroines in creepy gothic tales with fascinating historical detail to add to the chilling mix, and more eyecatching covers too. I look forward to Laura's next novel, The Shape of Darkness in 2021. I thoroughly recommend these eerie tales as the nights draw in. Move a little closer to the fire and prepare to be just a little bit spooked.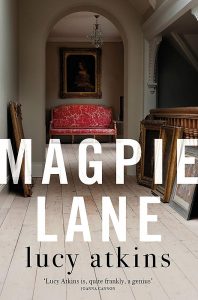 Magpie Lane by Lucy Atkins 
This deliciously dark offering from Lucy Atkins takes us into the shady lanes and old creaking houses of Oxford. Complete with priest holes, ghosts and dark pasts, this psychological thriller is riveting and disturbing in equal measure.
The Yellow Wallpaper by Charlotte Perkins Gilman
'The Yellow Wallpaper'  was first published in 1892 in the New England magazine. This powerful short work tells a story based on the author's own experience. A woman living through an enforced 'rest cure' following the birth of a child starts to see shapes moving in the walls and is slowly driven mad by it. You'll never look at patterned wallpaper the same way again…
There is plenty to get your teeth into here and we won't judge you if you want to keep the light on as you read…
Bookish best,

The Felixstowe Book Festival Team