Hello booklovers,

This week's blog comes from a new writer we have welcomed to the Felixstowe Book Festival communications team, Elizabeth. You may have seen her name pop up before in various blog posts and in our November newsletter – you can look forward to many more thoughtful contributions in the coming months. This week Elizabeth shares her thoughts on the dark month of November and the light that can always be found, even during such adverse times. Enjoy…
I am writing this on the 5th of November. This time last year I was at a Halloween Party with friends, wildly dancing to Luther Vandross as we decorated their flat with tacky coloured cobwebs. Through the windows, fireworks could be seen going off above the North London streets. This year couldn't be more different. I am living back at home in sleepy Felixstowe and we are heading into our second lockdown.
Unfortunately for us, this means we are unable to go to our usual Bonfire Night celebrations. Gathering on muddy fields, layered up in jumpers and woolly hats, children on shoulders clutching sparklers, gazing up into the sky in anticipation of a probably underwhelming display of a few pink and green explosions. However, what on reflection is a bizarre celebration commemorating the Gunpowder Plot of 1605, for many is associated with a nostalgic warmth and cosiness which provides an evening of jovial comfort, at what can be a bleak time of year.
Bonfire Night isn't the only celebration of light that will be missed this year. Diwali, the Hindu festival of light, takes place between October and November. In India, this is at the end of the monsoon season, when the extreme weather simmers down to a mild and peaceful level. Streets are lined with oil lamps, candles, and strings of lights, and time is spent with friends and family. Fireworks, music, and dancing are all part of the vibrant atmosphere, celebrating the legend of Rama and Sita, joy, forgiveness, and the triumph of good.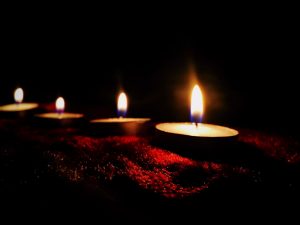 Due to lockdown restrictions, celebrations in the UK this year will have to be considerably tame. There will of course be some traditions that people can still observe; decorating homes, cooking food, and spending time with close family, but it will be far from the colourful fun usually observed during Diwali. So much emphasis has been placed on locking down so we are able to celebrate Christmas, but other religious festivals have been overlooked. I am thinking of all those who won't be able to spend time with their families over Diwali this year and I hope you can find some joy in small-scale celebrations.
It seems important to acknowledge that both Diwali and Bonfire Night, are celebrations involving light. Maybe by bringing light into our homes, even in the form of candles and oil lamps, sparklers in the garden, a zoom call with loved ones, we are providing a glimmer of hope for ourselves in these dark times. Sometimes, it is the smaller displays of celebration that are even more special and will stay with us the longest. Although at times I may wish myself back at parties with my friends, I plan to make the most of the cosy winter days in Felixstowe with my family. Chilly walks to the ferry, reading on the sofa with the cats and endless cups of tea.
My mum reminded me the other day of 'The Bonfire Pudding', from one of Dorothy Edwards' 'My Naughty Little Sister' stories, beautifully illustrated by Shirley Hughes. Although not scared of many things, My Naughty Little Sister hates fireworks, so to take her mind off them, she stays indoors and helps her Granny make Christmas pudding. This story evokes everything that is warm and comforting about being indoors when what is outdoors seems frightening. Perhaps it will inspire you to make the most of the cosy evenings in that lay ahead …
Grannie's big kitchen table looked just like a shop, there were so many things on it. There were jars and bottles and packets, full of currants and sultanas and raisins and ginger and candied eel and a big heap of suet on a board, and a big heap of brown sugar on a plate. There were apples and oranges and lemons, and even some big clean carrots!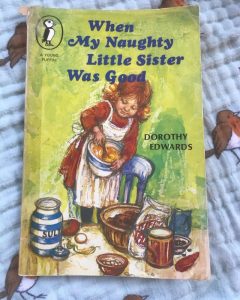 There was a big brown bowl standing on a chair that had a big, big, wooden spoon in it. And on the draining board were lots of white basins.
Can you guess? My sister couldn't. She didn't know what all this stuff was for, so Grannie said, 'We are going to make the Family Christmas Puddings. I always make one for every one of my children every year. And I always make them on Bonfire night. It takes my mind of the bangs.'
My sister was very surprised to hear this, and to know that all these lovely things to eat were going to be made into Christmas Puddings.
Grannie said, 'You can help me, and it will take your mind off the bangs, too.' …
… When all the things had been put into the brown bowl, Grannie began to mix and mix with the big spoon. She gave my sister a little wooden spoon so that she could mix too.
Then, Grannie said, 'Now you must shut your eyes and stir, and make a wish. You always wish on a Christmas pudding mixture.'
And my sister did. She shut her eyes and turned her spoon round and round. Then Grannie shut her eyes and wished.
My sister said, 'I wished I could come and help you next Bonfire night, Grannie'
And Grannie said, 'Well, Missy, that was just what I wished too!'
Then my sister sat quietly by the fire while our grandmother put the pudding mixture into all the basins, and covered them with paper and tied them with cloth.
From When My Naughty Little Sister Was Good by Dorothy Edwards