Hello booklovers,

Our first instalment of our 2020 Christmas blog series is suitably bookish and comes from our Festival Director, the lovely Meg Reid.
Christmas wouldn't be Christmas without some new books waiting to be explored. My children and now grandchildren know to expect at least one book in their present pile.
I even have a treasured Christmas tree decoration which is a book, a tiny Santa shaped edition of "The Night Before Christmas". I have no idea where I got it but it has hung on our tree every Christmas for years.
Another book which has been with me forever is "Christmas At Timothy's" given to me by my mother when I was a baby. Turning the pages takes me back to childhood. It's a story about a girl who goes to stay with her cousins at Christmas time. The children go to the market in the fog to choose a Christmas tree, they make paper chains, roast chestnuts and have a happy old fashioned time!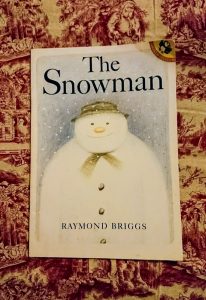 "The Snowman" is a family favourite. As well as reading the story all the pianists in my family know they must  play "Walking in the Air" when they visit. I'm chuffed that, despite Covid stopping the piano lessons I started last year, I've just discovered that I can now make a reasonable attempt at playing myself!
Of course there is a pile of Christmas books ready to read to the granddaughters (now via Facetime) My favourites are "The Jolly Christmas Postman" and "Mog's Christmas" but there are plenty of others to choose from including a recent addition "Little Bear's Christmas" about a little bear who sets an alarm clock to wake himself up from hibernation to try to see Father Christmas. (He does of course)
I hope you get lots of books for Christmas and if you are buying them as presents please do use our wonderful indie bookshops.
Meg x