Hello booklovers,

We have a festive treat in store for you this weekend. Helen Bott of Treasure Chest Books, a magnificent second hand book shop in the heart of Felixstowe, shares with us the book that brings her comfort and joy at Christmas.
When I mentioned the book I was thinking about for this blog at the family dinner table, there were howls of derision. 'That's not a Christmas book' and 'Of course you'd choose that book' amongst other comments. But the opening line of the  book in question is 'Christmas won't be Christmas without any presents' and the title of the second chapter is  'Merry Christmas'. I rest my case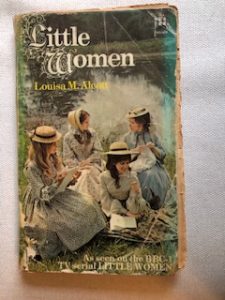 The book is, of course, Louisa May Alcott's 'Little Women', my favourite childhood book. I loved reading and rereading about the lives of the March sisters and have welcomed the chance to reread it again almost 50 years later. My 1970s paperback copy is just about holding together. There was so much I didn't understand at the time. What was this war which had taken father away? What was a poplin dress? Why did they eat muffins for breakfast? What was a russet apple? But so much else made sense especially the relationships between the sisters. And their experience of Christmas still rings true. With hindsight the sanctimonious, proselytising tone can grate a little (my own daughter refused to read it when she was young) but the opening chapters are still a wonderful, warming Christmas read.
The sisters know that there isn't enough money for lots of presents this year, they all have a dollar to spend and would like books, music, drawing pencils but decide to spend their money on gifts for Marmee. In return they receive matching religious tracts which they plan to read every day. I loved the description of these books, all different colours, how that appealed to my 10 year old's love of all things matching, I'm not sure I would have wanted such a gift myself. Then they decide to take their Christmas Day breakfast to a poor starving family, competing with Dickens here and of course their kindness is rewarded when old Mr Laurence sends a Christmas tea of ice cream, cake and 'French bonbons' (I never did understand why the tea included toffees covered in icing sugar…)
The best and funniest section is the description of the play the sisters put on for Marmee and other friends in which the scenery collapses, Meg wanders around looking beautiful, Jo overacts and Amy refuses to throw herself into the role of romantic heroine, 'her 'Ow' was more suggestive of pins being run into her than of fear and anguish'. As a child who used to dragoon her younger siblings into performing a play for parents and grandparents, I felt Jo's pain.
So if you want a change from Tiny Tim and his turkey, dig out your old copy of 'Little Women.' Look past the nineteenth century moralising, Meg does actually say 'That's loving our neighbour better than ourselves and I like it' and there's a very human description of a family celebrating Christmas. You can almost feel the heat from the blazing fire and taste the treats sent by Mr Laurence. Now I'm going to reread the whole book and 'Good Wives' too.
Happy Christmas!
Helen