Hello booklovers,

We have welcomed bookish folk to our blog over the past few weeks to share with us what makes their Christmas joyful. We've had all sorts of different festive offerings, from book recommendations to handmade stockings, to a piece about the scent of Christmas. Today we bring you something completely different – Elizabeth, one of our writers, whisks us away to the wilds of wintery Russian literature with some reading resolutions for the new year. Enjoy…
Nothing speaks Wintery landscapes more than the harsh crispness of Leo Tolstoy's Russia. Strangely enough, this is what came to my mind when presented with the theme 'comfort and joy'. Although the themes of Tolstoy's novels are not very joyful at all, there is something very fun about being swept into the depths of the narratives from the comfort of your home. I have to confess, I am one of those people who claims to be obsessed with Russian literature, without having ever braved any of the tomes. Maybe it's more that I love the atmosphere and images they bring to mind; icy Moscow and snowy St Petersburg, sad but beautiful women adorned in fur coats being pulled along in sleds, attractive men duelling over forbidden love against a backdrop of snow. That sort of thing.
I associate the Christmas period with cosy days curled up on the sofa, fire burning and candles lit, watching my favourite adaptations of a classic Russian novel. Joe Wright's 2012 adaptation of Leo Tolstoy's Anna Karenina has to be top of the list. It is a feast for the eyes and visually spectacular. Alongside this, is the 1999 version of Alexander Pushkin's (Eugene) 'Onegin', directed by Martha Fiennes and starring Ralph Fiennes as Eugene, and Liv Tyler as Tatiana. I had hot tears running down my cheeks by the end, the first time I watched this. I think I was 12 and it was probably the beginning of my career as a hapless romantic. There are some great furs in this one. Perhaps it will tempt you to give the 19th-century Russian look a try? If you are in for the long haul, then I would recommend committing to the BBC adaptation of War and Peace, which graced our screens back in 2016. Paul Dano plays the ever comforting and sweet-faced Pierre Bezukhov, in a really moving performance. Adapted by period drama expert Andrew Davies, known for his well-loved adaptation of Pride and Prejudice, I have re-watched and loved the six episodes many times.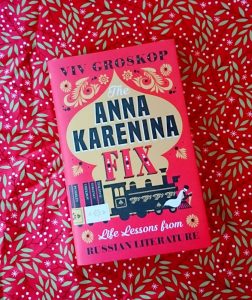 As much as I love the ease of settling down to watch these meaty narratives play out before my eyes, it is my resolution to have read at least one of the Russian classics by the end of next year. 'The Anna Karenina Fix; Life Lessons from Russian Literature' by Viv Groskop, is a brilliant collection of essays that has completely inspired me to take a new approach to the Russians. Groskop proclaims that 'it's time to take all the doubt and fuss and snobbery and pretence out of this kind of reading'. 'Don't be afraid not to finish or to come back years later'. Extremely refreshing advice! Groskop's collection untangles what some of the Russian greats (including Crime and Punishment, Anna Karenina, Dr Zhivago, Three Sisters, and many more), can teach us about our own lives. At the heart of many of these narratives are complex family dynamics that are completely relatable. The context of the times we live in may have changed, but the human condition has not. Groskop's commentary is light-hearted, witty, and is guaranteed to inspire you to delve into that crusty second-hand copy of War and Peace, that may or may not be collecting dust on a shelf somewhere.
Russian Literature is probably not the most obvious place to seek comfort and joy. In fact, one can expect to encounter the opposite. However, the comfort I seek in reading is in the lives reflected on the page, in which a sense of humanity can be found. As this year has taught us, life is a trajectory full of twists and turns and it is impossible to expect it to be easy all of the time, (I am sure Tolstoy has something wise to say on this topic). It is key then, to take pleasure in small things. And what could be more glorious, than allowing yourself to be transported by the written word?
Merry Christmas!

Elizabeth x