Hello booklovers,

It's one week until Christmas Day! December has sped by bringing with it an odd mix of uncertainty mixed with the festive rituals and familiarity that we all become re-acquainted with at this time of year. Children's author Francesca Armour-Chelu brings comfort and joy to us today as she shares memories past and present of happy family Christmases.
When I was very small, my dad would wait until we'd gone to bed on Christmas Eve before decorating the tree, so the first time we'd see it would be on Christmas morning, as if it had been conjured up overnight from a snowy Northern forest, already laden with baubles and tinsel. It was one of the things that made the tree seem most magical; its miraculous arrival, that it meant Christmas was really here. When we got older my sisters and I would help decorate it too, with carols playing and the room lit by candlelight. My dad still liked to hang up the glass baubles though; almost ceremoniously lifting them from their box. They were big as grapefruits, iridescent with age, fragile as egg-shells – and if one dropped, even onto carpet, it'd smash to smithereens revealing a mirrored interior like a Fabergé egg. The tree was done once the star was up and my Mum would say 'Isn't it lovely!'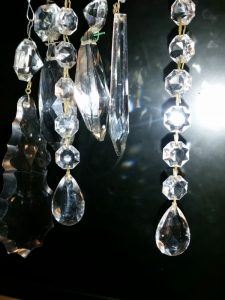 Although Christmas is about family customs, my Dad used to believe families should make new traditions for themselves too, so although I have the old baubles, I now keep them stowed away (partly because I'd hate to break them!) On the night of the winter solstice, we hang these lead-crystal drops instead; they're from an old chandelier, so heavy they bend the branches, and once the lights are switched on, they make the tree sparkle like a firework. Finally, we put the shuttlecock angel up, with its wonky felt-tip pen eyes that our eldest made when he was in primary and only then is the tree done. Before I say 'Isn't it lovely!' one of the kids will say it for me, because I'm nothing if not predictable when it comes to flattering Christmas trees.
With the kids teasing me and goofing around with lametta, Christmas is underway. I raise a glass to my parents for giving me so much love for its magic – and for the luck of having kids to pass it on to.
Merry Christmas!

Francesca x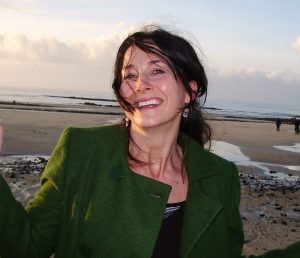 Francesca is a children's author whose excellent works include Fenn Halflin and the Fear-Zero, Fenn Halflin and the Seaborn and The Butterfly Circus. Alongside her writing Francesca works for Suffolk Libraries and runs creative writing workshops.