Hello booklovers,

Some comfort and joy is much needed today here at the Felixstowe Book Festival and who better to ask to cheer us along than local author Ruth Dugdall? Read on to find out all about the tree and the festive decorations that make Ruth's Christmas…
Christmas will be different for us all this year. The things that bring us joy are perhaps even more precious, talismans from Christmases past, hopeful symbols of better times to come.
Given the understandable limits on sharing our homes, there are signs that people are focussing  on the outside, lighting hedges and trees, making our streets twinkle. My Nordic spruce is by the window, so it can be seen from the doorway, to spread joy to folk I would normally welcome in, but this year will greeting on the stoop.
On that tree are other things to bring joy: I've been collecting tree ornaments since 1996, when I first met my husband, Andrew. That first year we visited Lake Bled, where I bought a nativity set. Some of the figures are chipped, and a donkey is missing its ear, but it will still find a home in the stable.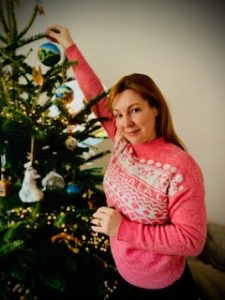 Hanging from the branches is a centaur from Russia where we celebrated our 10th wedding anniversary. I have an articulated lobster from Cape Cod, where our daughter Amber learned to swim, and a mini bottle of Guinness from a (freezing) trip to Ireland, when Eden was a baby. Baubles from Luxembourg and California, where we lived for a time, are more recent additions. As we've been unable to journey anywhere this year, these trinkets feel precious. Symbols of memories we made, but also the significance of returning home.
From my home, to yours, I wish you a peaceful and happy Christmas.

Ruth x
Born and bred in Felixstowe, Ruth is a crime writer. Her novels include Humber Boy B, The Woman Before Me and The Sacrificial Man. Alongside her writing Ruth works within the Criminal Justice System – most recently this role has taken her to Luxembourg. Despite her travels taking her far and wide, Ruth continues to be a brilliant supporter of the Felixstowe Book Festival.