Hello booklovers,

Today we bring you our last instalment in our Comfort and Joy Christmas blog series. We do hope you have enjoyed the bookish insights from authors and other festival folk over the past few weeks and that it has brought some festive cheer into your December. Today we round off with the Christmas musings of one of our best loved guests to the Felixstowe Book Festival, Elly Griffiths. Join Elly as she shares with us the Christmas Eve tradition that brings comfort and joy to her Christmas celebrations…
On Christmas Eve when they were two, my twins were given a copy of The Night Before Christmas by Clement C Moore illustrated by Douglas Gorsline. I read it to them that night and we were all entranced by the words and the pictures: the mantelpiece with the stockings hanging from it, the cat on the snowy window ledge, Mama in her kerchief and Papa in his cap, the tiny reindeer on the roof. And has there ever been a better description of Santa? He's dressed all in fur, 'a right jolly old elf', bringing a touch of folkloric wildness into the cosy domestic scene.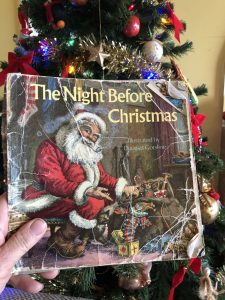 It became our tradition to read the book on Christmas Eve every year. Even when the twins became teenagers, they humoured me and let me read to them about the angelic children nestled in their beds dreaming of sugarplums. The book has been influential in many ways. We realised, a few years ago, that at Christmas we decorate our sitting room to resemble Garsline's illustration as closely as possible, with the tree to left of the fireplace and greenery along the mantelpiece. The poem is also a very useful aide-memoire for reindeer names (although Rudolph doesn't appear), which has proved invaluable in more than one Christmas quiz.
In recent years my little angels have been out partying on Christmas Eve but this year, of course, that won't be possible. We'll have a cosy evening at home with our decorations and our cat snoozing in front of the fire. And, yes, there will come a point when I will get out our battered copy of The Night Before Christmas and start to read.
Happy Christmas to all and to all a good night.

Elly Griffiths x
Elly Griffiths is a British crime writer and author of the fascinating Dr Ruth Galloway series and the Stephens and Mephisto novels. Her latest standalone novel, The Postscript Murders, was published in October this year. Elly is a long standing supporter of the Felixstowe Book Festival and we look forward to seeing her again very soon.