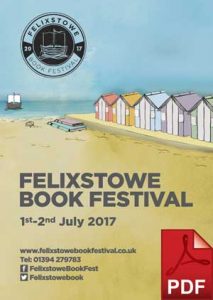 Scroll down to peruse our 2017 events, or filter these by selecting one of the genre options below. To buy tickets simply select the BOOK HERE button at the top of each event page. Alternatively you purchase tickets by phoning The Wolsey Theatre on 01473 295900. On Tuesday mornings from 10 am to 1 pm you can purchase tickets in person at the Felixstowe Library (cash only).

No Events
Please note, buying a ticket affirms your consent to the possible photographing of yourself as a member of the audience. If you have any objection, please contact a book festival volunteer before the event you are attending.

We reserve the right to make changes to the programme due to circumstances beyond our control.