Adult Price: £8
Concessionary Price: £7
Date/Time
Date(s) - 01/07/2017
11:00 am - 12:00 pm
Location
Orwell Hotel - His Lordship's Library
Categories No Categories
Tickets £8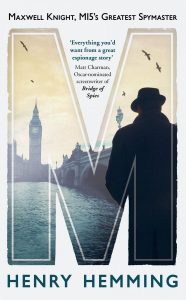 A gripping talk about two remarkable female spies and the man who ran them: an animal-loving drop-out who went on to become MI5's greatest spymaster. This is the dramatic true story of a maverick MI5 officer who recruited two women in the 1930s to penetrate the British Communist movement. Their skillful, deft work led to the exposure of a Soviet spy-ring in the Woolwich Arsenal, a famous court case and one of them being hailed in America as 'Britain's counter-espionage heroine'.
Rather than try to cram the book M into a single talk, Henry has chosen to focus on a single thrilling episode in which we will:
– Get to know MI5's Maxwell Knight, better known as 'M'–a complex, conflicted character and an inspiration for the James Bond 'M' as well as John Le Carré's Jack Brotherhood in A Perfect Spy.
– Learn about M's remarkable agent Olga Gray, a typist with a troubled past and the extraordinary ability to cope with the pressure of leading a double life.
– Find out the name of M's second female agent, 'M/2', which has never been revealed by MI5. After years of detective work Henry has been able to discover who she really was.
– Get a taste of what it was like to work for M through several games involving them. These are designed to find out how observant everyone in the audience really is and how many of them can lie, as they say in the navy, like a hairy egg.
Dramatic rights to M were recently optioned in a pre-emptive deal by Damien Timmer, MD of Mammoth Screen
(Poldark, Victoria, Parade's End), with the Oscar-nominated Matt Charman (Bridge of Spies), attached as lead writer. Henry's last book, Churchill's Iceman, published in the US as The Ingenious Mr Pyke, became a NY Times bestseller. Henry Hemming is an entertaining and experienced speaker. His talks are engaging, lively and carefully tailored to the audience, whether it's the group of businessmen he spoke to recently in Saudi Arabia or the society of nudists he once addressed in Cornwall.
This event will be chaired by Peter Guttridge.