Date/Time
Date(s) - 30/06/2018
4:00 pm - 7:00 pm
Location
Beach Hut 22 near The Spa Pavillion
Categories No Categories
Tickets £
In need of food for thought? Or food for the soul? Looking for exhilaration? Or a moment of contemplation? Wanting to recharge your batteries? Or wind down? Craving for a laugh? Or a cry? Or both?
Step inside the Live Poetry Jukebox! A selection of delicious and delectable poems about love, life, hope and fun will be waiting for you, pickled and preserved in jars and stored in Mueller&Malten's marvellous Wunderkammer. Choose a jar and release its full flavours! Poetry in the flesh to see, hear, feel, and most importantly, to savour.
Live Poetry Jukebox is a performance installation by theatre maker Adie Mueller and designer Trui Malten. Enter the Jukebox, choose a jar, and a poem will be performed for you! Simple! So what are you waiting for?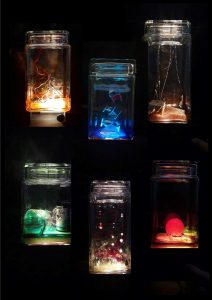 This event is part of the Pop-Up Festival which will be using unique venues around Felixstowe for charge free, intergenerational events inspired by our port and sea side location.
Please note: Due to beach erosion the huts might have to be moved to different positions. Should this happen we advertise this on the website as soon as we become aware.