Date/Time
Date(s) - 26/06/2022
10:45 am - 11:45 am
Location
Felixstowe Museum
Categories
Tickets £6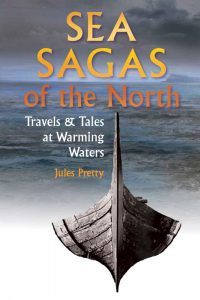 Felixstowe Book Festival and Essex Book Festival are teaming up for a special celebration of the publication of writer and environmentalist Jules Pretty's latest book Sea Sagas of the North: Travels and Tales of Warming Waters. There are shadows on the warming, northern seas. Long ago, refugees fled Doggerland when seas encroached. Now rising seas threaten low-lying shores once again… Join us for a story-telling journey through history that reconnects Nature with ancient heritages.
The day begins at Felixstowe Museum, then sets sail via the Foot and Bicycle Ferry from Felixstowe to Harwich Quay – replete with Salty Tales from award-winning storyteller Glenys Newton – before concluding at The Redoubt Fort. Audiences are invited to join us for part or all of the day.
(Redoubt Fort event 2.15-3.15. The last ferry back to Felixstowe is at 4.10pm. More Salty Tales with Glenys on board.)
People will be encouraged to take the Harwich Foot and Bicycle Ferry (but need to book it in advance) to Harwich at 1.30pm. Emma and Glenys will lead them to the Ferry. Glenys will then entertain them with some Salty Tales on board.
£8/£6 for each event. Joint ticket of £15/£10 for both events. 
Tickets include entry to Felixstowe Museum and Redoubt Fort. 
Tickets for this event need to be booked though  essexbookfestival.org.uk
Ferry tickets not included and must be booked in advance.