Hello booklovers,
We hope you all had a brilliant (if slightly chilly) bank holiday weekend! How many of you spent it perusing our crime and non fiction events, I wonder… We have further treats in store for you today, in the form of our festival workshops. Taking place at the Orwell Hotel and a variety of other locations around our town, we are delighted to offer you some alternatives to our other fabulous events. Read on to find out more…
Fancy a visit to Felixstowe Ferry?
Writing Shadows: Juliet Lockhart
Join artist Juliet Lockhart at St Nicholas Church, near Felixstowe Ferry, for a creative writing workshop. Juliet aims to help participants to explore character creation through art. Beginning with the creation of your own puppet, Juliet will guide you through the session, making the puppet the focus of your development of a character.
Head on down to the Ferry Cafe to meet author Matt Gaw, who will be leading these non-fiction writing workshops. The session will involve a trip to one of Felixstowe's Martello Towers, sensory walks, writing advice and time to write your own work.
The Publishing Industry: how to get published, attract an agent, attract an editor with Phoebe Morgan
Join author and editor Phoebe Morgan at Felixstowe Ferry sailing club, where she will guide you through both the writing and publishing process, helping you shape your path to becoming a published writer.
Or a trip to the beach?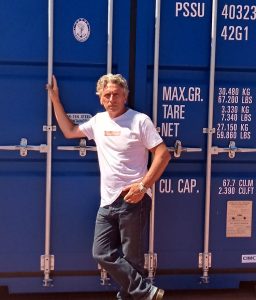 Containment as creative inspiration: Richard O'Neill  
Following on from a similar event at last year's festival, we are delighted to welcome back Richard O'Neill and the 'Container Writing Room'. This interactive story experience delivered from no other location than a shipping container, over the course of the festival weekend. Starting with an introductory talk on the Friday evening, followed by a writing experience on the Saturday and a chance to share writing on the Sunday. For further information, follow the link in the event title above.
Writing for Self Awareness: Amy Dann
Join Amy at her seaside flat for a session on mindful writing. Amy, an accredited psychotherapist, will deliver a writing workshop that uses visualisation and other mindfulness techniques. A trip to the beach will be included, weather permitting, so don't miss out on this inspirational session.
St Nicholas Church
Creative Writing and Performance: Emma Kittle-Pey and Mark Brayley
At this two hour workshop, with the help of writers Emma and Mark, you will produce a piece of creative writing, ideal for performance to others. Complete with tips and hints about the creation and editing process, this workshop is ideal for beginner and seasoned writers alike!
Look out for a post later on in the week all about the rest of our wonderful workshops that we have on offer at the 2019 Felixstowe Book Festival.
Bookish best,
Imogen and the Festival Team